We did it! – "The symbolic target of 50% at university reached."
On Tuesday, September 28th, 1999, Tony Blair our then Prime minister, made a memorable speech. He urged half of the population of young people in the U.K to go into higher education. "Today I set a target of 50% of young adults going into higher education in the next century," Mr Blair told Labour delegates." – BBC News. And exactly 20 years later, we did just that.
According to the BBC News, "figures from the department of education, for 2017-18, show 50.2% of people going into higher education." This goes to show that more young people are becoming motivated to pursue higher educations, but why is that?
When asked the following question, "What encouraged you to apply to University after A -levels?" University students gave us an insight into their reasoning for not just stopping there.
"I'd say that University gives you a better opportunity when applying for jobs when you leave." – Charlie, London SouthBank University
"I want to be independent and have a future with no limitations." – Isabella, London SouthBank University
"To increase my chances of establishing and maintaining my own successful business one day." – Taz, Kingston University
Most of us want the option of building a life for ourselves that we're proud of. But attending a university and pushing yourself to the limit is much more than that. You don't walk in human and walk back out as a degree.
So what are some other important reasons for wanting to go to University?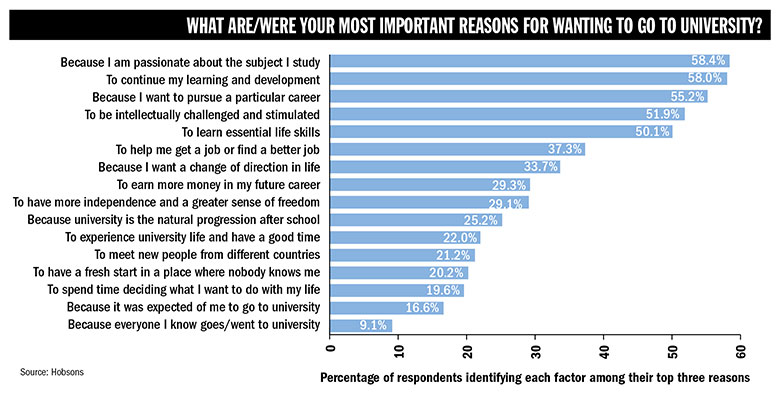 Source: https://www.timeshighereducati…
According to another BBC News article, "A rise in the number of 18-year-olds by 2030 will push demand up by 50,000, the Higher Education Policy Institute says.'' It seems that the percentage will hopefully keep increasing.
 "This growth is strong, often 3 per cent a year." Mark of dataHE commented. "And it is consistent, up year after year. "
The future looks bright, Britain.